Careers Guidance
Details

Published: Friday, 01 November 2019 08:28
Gatsby Benchmark 1 - A stable careers programme
Careers Programme of Study Document
Gatsby Benchmark 2 - Learning from career and labour market information
Subjects
Art & Design 
Biology 
Business 
Chemistry 
Computer Science 
Design Technology
Economics
English 
Geography 
History 
Languages
Maths
Physics
Psychology
Sociology 
Other links
Unifrog

What is Unifrog?
"Unifrog is the complete destinations platform – a one-stop-shop for students across KS3, KS4 and KS5 regardless of their interests or academic ability. It is the only place where students can compare every university course, apprenticeship and FE course in the UK as well as university in 30 other countries across the world. This is alongside getting access to labour market information and advice on careers and subjects for all routes".  - https://www.thecdi.net/unifrog
Parent Logins
This is the STM code for parents to use when creating their own Unifrog accounts: stthomasmoreparents . Parents navigate to unifrog.org/code, fill in their details and enter the code. Parents will then be able to use Unifrog as if they are a student, there is loads of careers resources and support materials on there. The Parent Pack can be found in the Resources Library (here).
Gatsby Benchmark 3 - Addressing the needs of each student
View St Thomas More University Destinations Map 2020 in a full screen map
Destination data for STM students 2019/2020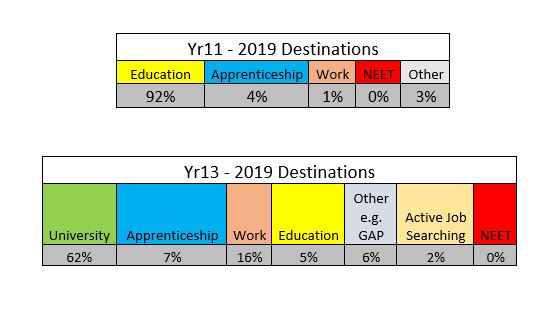 Gatsby Benchmark 4 - Linking curriculum learning to careers
Gatsby Benchmark 5 - Encounters with employers and employees
Students regularly have assemblies led by local employers, some including former students in a wide range of careers. Students have also the opportunity to visit workplaces in the local area facilitated by school trips, our annual 'take your son to work day' and work experience for Y10 & Y12 pupils. Department led school trips enable students to view careers in action within their chosen subject field in KS3 & KS4. An annual careers fayre is offered to all students and this was very well attended last year.
Gatsby Benchmark 6 - Experiences of workplaces
At St Thomas More High School, we believe in the value of Work Experience in both motivating students and giving a genuine understanding into the world of work. Students can gain important insights into their career interests and values, which will help them with their future decision-making. The skills and attributes gained can be referenced within CV's, enhance employability and UCAS applications.
Will be updated in 2020 -
Take your son to work day (TYSTWD) 

Year 8 and Year 9 students will be offered the chance to go to a work placement with a parent or a trusted adult for the day to gain a real experience of a working day.
More information will be made available to parents in due course.
Gatsby Benchmark 7 - Encounters with further and higher education
Gatsby Benchmark 8 - Personal guidance
Sixth form and Y11 students will have connexions appointments ; a leading provider of Careers, information advice and guidance for young people in Essex.During the students appointments in Year 11 they will look at options After Year 11 and the careers timetable.