Friends of St Thomas More Association
As a parent of the school you are automatically a member of our Association!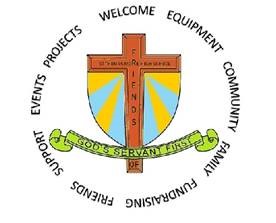 Our Aims
To raise extra funds for the school. Check out our banners and see below!
To arrange social events to boost our funds.
To help out at school events providing refreshments.
Chair: Sarah Burns
Secretary: Tracey Burke
Treasurer: Mary Stone
---
********************************
LATEST NEWS - Stikins Name Labels
The Friends of St Thomas More (FOSTM) are excited to announce that we have teamed up with Stikins to offer parents the opportunity to purchase quality labels for your children's school uniform, whilst earning the school commission at the same time! This money can then be used to continue to help purchase some of the fantastic resources that benefit our children's learning.
As we all know, lost property is a problem in all schools and I am sure we are all familiar with your child, at some point, coming home from school with a missing item. As parents, we are aware that time is precious, which is why we think these labels are such a great idea; they simply stick onto the wash-care label of clothing.  They can even be used in shoes!  They are washing machine, tumble-dryer, dishwasher and even microwave-proof!  Use them on coats, clothing, lunch boxes, water bottles, shoes, bags, PE kits, glasses cases, trainers, musical instruments, phones etc.  Naming of clothing is a school requirement and we are hoping that with this opportunity we can start to eliminate some of parents' frustrations that surround these issues.
 How it works:
Each order placed quoting the school reference number (35912) will provide the school with 30% commission. Click in the image below to take you to the Stikins website

 ********************************
Financial News
£11,900 was donated by FOSTM to your school last year to buy much needed extras for many of the departments.
---
Join Easy Fundraising – It's so easy! Here's a quick reminder.
Do your shopping/searching online - raise money for St Thomas More as you go. Instead of going directly to a retailer's website, go to Easy Fundraising and choose the retailer you want to shop with. It won't cost you a penny, but it will make us plenty. Switch From your usual Search Engine to Easy Search and earn half a penny for every search you make. It soon adds up!
Each time you purchase from online retailers such as:
Argos, Amazon, Boden, Ebay, Debenhams and many more! 
You could earn money for the school by purchasing through easyfundraising.org.uk. It costs you nothing!!
---
 UPDATE ON EASY FUNDRAISING
Thank you to the three people that signed up last week.
We now have 75 people earning extra funds for school equipment.
We have raised a whopping £1041.81 to date.
Please click on the link that explains how easy it is to sign up.
As already mentioned, it will not cost you a penny.
Please click here for instructions how to raise money with easyfundraising.